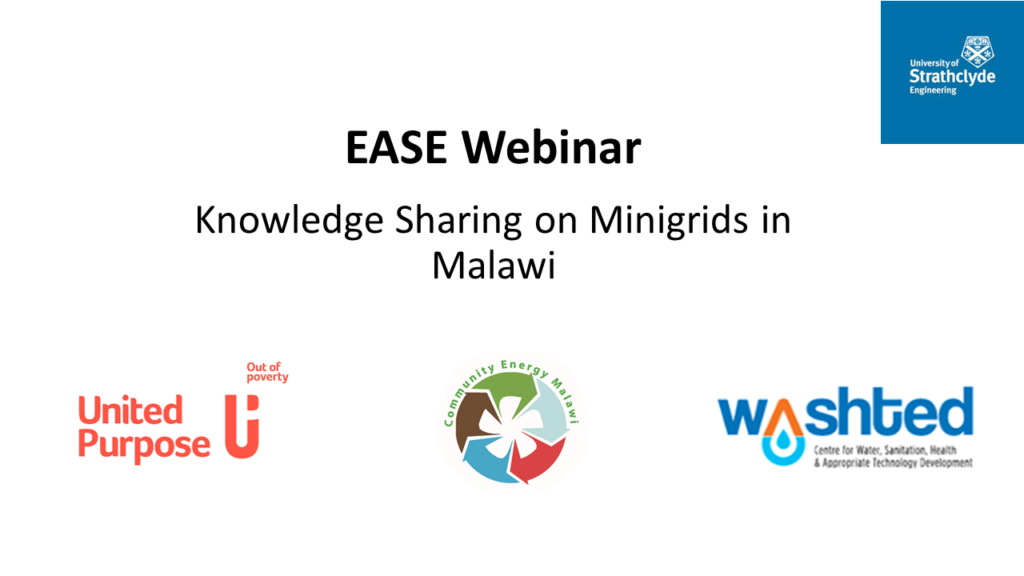 On 29th of April The University of Strathclyde hosted EASE project partners and other key stakeholders from Malawi's energy sector to discuss opportunities and barriers for minigrid development in Malawi.
Acknowledging the prominence of minigrids in delivering national policy targets, the webinar was aimed at existing renewable energy practitioners interested in entering, or growing their presence, in the minigrid market. We shared process and lessons learned from minigrid development in EASE and also heard experiences from other prominent mingrid developments in Malawi.
We have had some great feedback from the approximately 50 attendees who joined on the day, so we hope to make this the first of several Ease webinars!
Panelists/Presenters:
Professor Stuart Galloway, University of Strathclyde
Elizabeth Banda, United Purpose – Presentation
Lusungu Kumwenda, Community Energy Malawi Trading – Presentation
Lonjezo Bingalasoni, CARD – Presentation
Dr Collen Zalengera, Mzuzu University
Temwani Mweso, MERA
Cornwell Chisale, Ministry of Energy
Kelvin Tembo, WASHTED
Damien Frame, University of Srathclyde