The Rural Energy Access through Social Enterprise and Decentralisation (EASE) is funded by the Scottish Government's Malawi Development Programme.
The project consolidates and builds upon longstanding partnership work between Strathclyde and our partners Unite Purpose, Community Energy Malawi and WASHTED. Each Malawian partner leads on unique, but highly complementary and collaborative pieces of work, bringing together a group of Malawian energy sector leaders in a community-centred approach that works with stakeholders and existing structures to deploy holistic, sustainable solutions to the complex energy challenges experienced by poor and vulnerable people.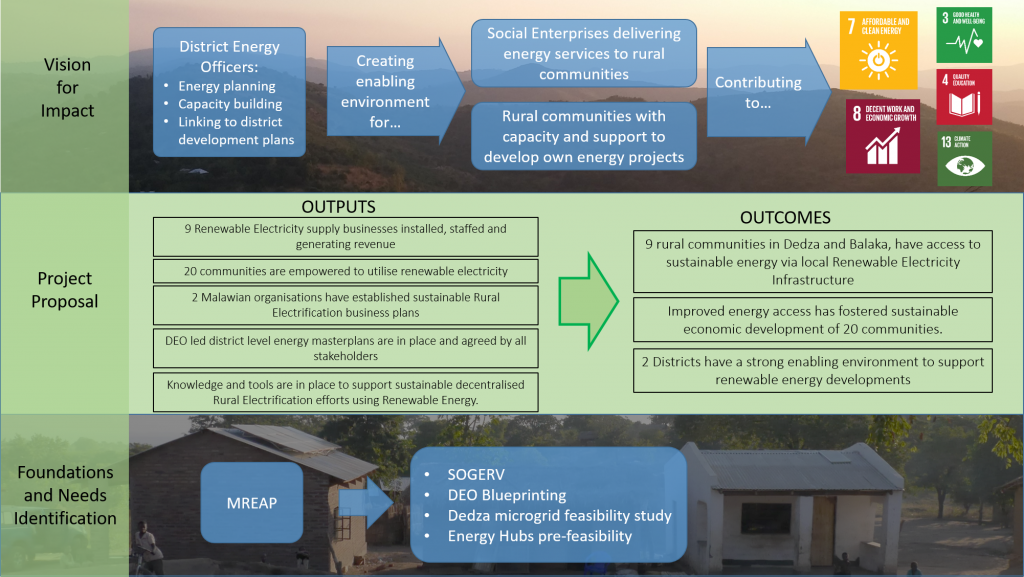 Background
The National Grid in Malawi serves only 12% of the population. 85% of Malawi's population live in rural areas where only 1% have electricity access. 62% live below the international poverty line, while 22% are ultra-poor. As well as acutely limiting domestic quality of life, energy poverty limits the number and variety of business ventures possible, stifling economic development. Absence of energy in schools and health facilities negatively affects quality of service, student outcomes, and staff retention.
There are numerous renewable energy access initiatives in Malawi; however, these mainly focus on small scale solar (<1kW), or village scale mini-grids (>50kW ~1000 customers). Micro-grids (offering wired connections to customers) and Energy Hubs (housing several productive use businesses in one location) in the 5 – 10 kW range provide higher levels of energy access than small scale solar and greater affordability than mini-grids. Developing the capacity to deliver solutions of this scale is the next logical step for CEM and UP as they work to support the Government of Malawi (GoM) achieve their 2030 target of sustainable energy available to all.
Advice and support for energy issues in local areas is not readily available. Mainstreaming energy as a critical issue in district development plans is highlighted by GoM in MRES (draft), acknowledging the importance of energy issues to multiple aspects of development in Malawi. Accordingly, the GoM have proposed decentralisation of its national renewable energy strategy to a district level. Recent work by CEM/UoS has provided detailed recommendations on the implementation of a DEO programme.