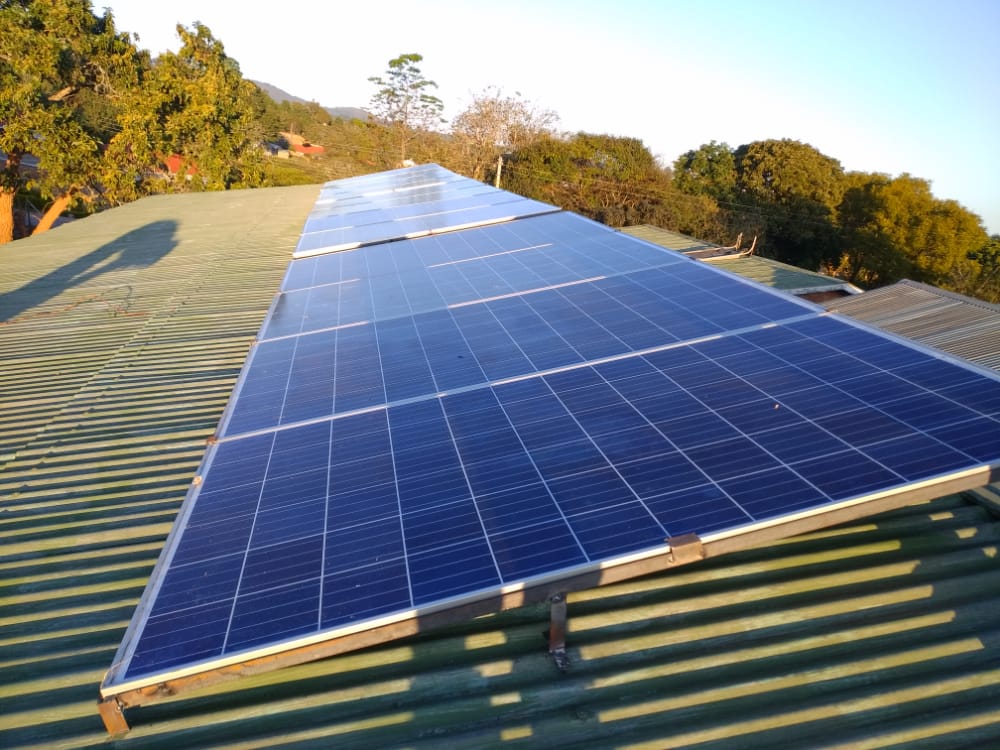 The COVID-19 crisis has highlighted and exacerbated the need for reliable and resilient electricity supply to health care facilities. Through the EASE Project, the University of Strathclyde (UoS) and Community Energy Malawi (CEM) have been able to rapidly deploy solar powered electricity backup systems in 5 hospitals using additional funding provided by the Scottish Government.
The Challenge
Historically, CEM have a strong engagement in the North of Malawi and since the COVID-19 pandemic hit, CEM have been supporting organisations who deliver key health services in rural areas. This work was supported by UoS in a small oxygen access research project in the middle months of 2020 when a range of rural hospitals were assessed. Although most hospitals had a grid connection and some had back up power solutions, a common set of problems were apparent. Grid power cuts were regular and long-lasting and even where a back-up generator was available, they were very expensive to run and not able to meet the demand. All costs for electricity supply and back-up power were met from each hospital's local budget, reducing budget available for other critical medical supplies. See more here https://strath-e4d.com/2020/10/01/improving-oxygen-supply-in-rural-malawi/.
The situation was summarised at the time by the Country Director of CEM, Edgar Bayani.
When the second wave hit Malawi, a surge in cases overwhelmed the COVID-19 treatment centres. Consequently, Government opened up to private hospitals and mission hospitals to also start COVID-19 treatment centres. In all these centres there have been common challenges as follows:
Shortage of Concentrators/Ventilators pushing Doctors/Nurses into ethical dilemma in deciding who should be put on the supporting systems
Shortage of PPE resulting in health personnel failing to do other processes and other associated equipment like Oxygen Flowmeters
Shortage of bed space resulting in failure to admit other critical cases
Intermittent power supply coupled with no or unreliable back up supply resulting in deaths
Targeted Response
With support from UoS, CEM's engineers mobilised to deploy back-up solar PV systems in 5 rural hospitals in Northern Malawi. The hospitals are all run by the Christian Health Association of Malawi (CHAM) under a service level agreement with the Govt of Malawi.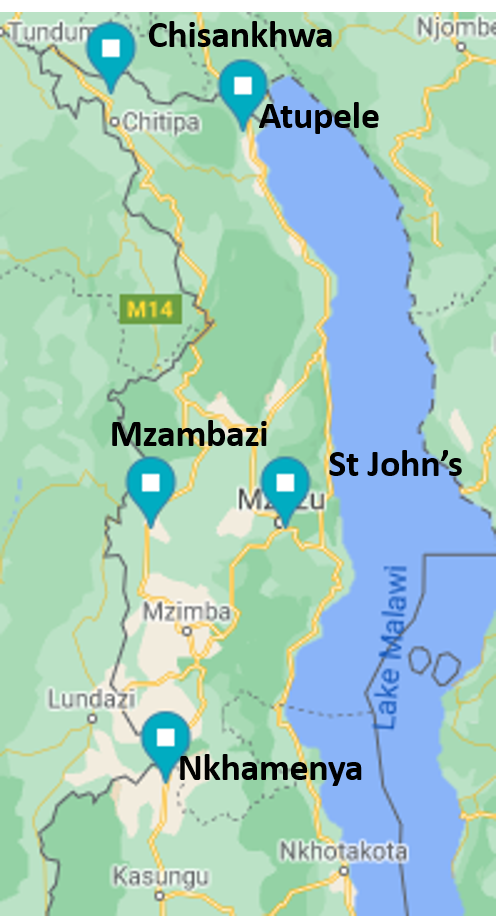 Atupele Community Hospital has been in place since 2007 and is run by the sisters of the Holy Rosary under the Catholic diocese of Karonga. Its catchment area is around 7 Group Village Heads (GVHs) serving about 28660 people. It provides services for Primary Health, Emergency Care, Maternal Healthcare, and Child Healthcare including Vaccination and Nutrition. The hospital has 87 staff across 16 buildings that include a Maternity Wing, Pediatric Ward, Palliative Care and an ART building.
St John's Hospital was established in 1962 by sisters of the Catholic church as the main referral hospital for the north until Mzuzu Central hospital was constructed. It provides services for Primary Health, Emergency Care, Maternal Healthcare, and Child Healthcare including Vaccination and Nutrition. The hospital has 194 staff across 14 buildings that include a Theatre, OPD, Pharmacy and Mother and Child Health building.
Serving more remote areas of Mzuzu Diocese, Mzambazi Community Hospital provides services for Primary Health, Emergency Care, Maternal Healthcare, and Child Healthcare including Vaccination and Nutrition. There are nearly 100 staff working across 6 buildings that include a Maternity Wing, Laboratory and X-Ray.
Nkhamenya Community Hospital is a Catholic health facility which is owned by Mzuzu Diocese and started as an OPD clinic in 1953 by White Sisters (Missionaries of Africa). After some years of operation a Maternity Wing was added because it was observed that the need for health services was dire and that the clinic would help thousands of people who had nowhere to go to access health services. It now offers all services in the package stipulated by the Ministry of Health through various departments as follows: Outpatient Department, Dental, Laboratory, Radiology (X-ray and Scanning), In-Patients (this encompasses the Paediatrics, Female and Male Wards) , Post Natal, Labour, Cervical Cancer Screening, Palliative Care and Radiology. 150 people are employed at the facility.
Located 15 kilometres from Chitipa District, Chisankhwa Health Centre was launched in 2020 to serve approximately 6000 people from 8 surrounding villages of TA Maulambya. The facility has an outpatient department, maternity wing, mother's waiting home, administration block, incineration and staff houses.
Sustainable Energy Solutions
The solar PV systems are designed to provide high quality power to different essential appliances in a typical COVID-19 isolation ward setting including oxygen concentrators and monitors. In all the facilities, a solar PV array is mounted on the rooftop of the isolation buildings. The array charges a battery bank of long lasting lithium Ion batteries and the whole system is integrated to the ESCOM national grid through a 5 kilowatt hybrid inverter. In this way, both national grid and local solar energy are used to ensure reliable power supply.
Example System Configuration
| | |
| --- | --- |
| PV Module Specifications | Polycrystalline 345 Watts |
| PV Array Size | 4 kW Peak |
| PV Inverter Size | 5 kW |
| Battery Specifications | 48 Volts Rechargeable Li-Ion, 3.5kWh |
| Battery Bank Capacity | 14 kWh |
Appreciating that resilient power supply is not just a COVID-19 issue, the systems have been designed to be able to support other equally essential wards. In Mzambazi for instance, the health facility can often be without ESCOM power for 2-3 days, crippling the operations of the whole facility as their generator is very expensive to run. The PV system has therefore been configured to support the paediatric and maternity wards as priority services. At St John's Hospital which is the 2nd biggest referral hospital for Mzuzu City, the system also supports the Malazi Clinic section which is an HIV treatment Centre and TB Isolation centre. This approach means the benefits of the PV systems can be maximised and shared depending on COVID-19 requirements.
Feedback
With the installation of the solar powered system at Atupele Community Hospital, there has been an inflow of complimentary COVID-19 related services at the facility. For instance, the department of disaster at Karonga District Council has donated COVID-19 screening tents knowing that Atupele is a priority hospital in the northern part of the district as well as its proximity to the border with Tanzania. Due to the presence of a backup system, the hospital's management is seeking to procure and source more Oxygen concentrators as the effects of the third wave become apparent. Similarly, UNICEF has has also donated tents to compliment the shortage of bed space at the facility.
Sister Theresa Custom is the sister In-charge at Atupele Community Hospital and she gave us her thoughts on the system.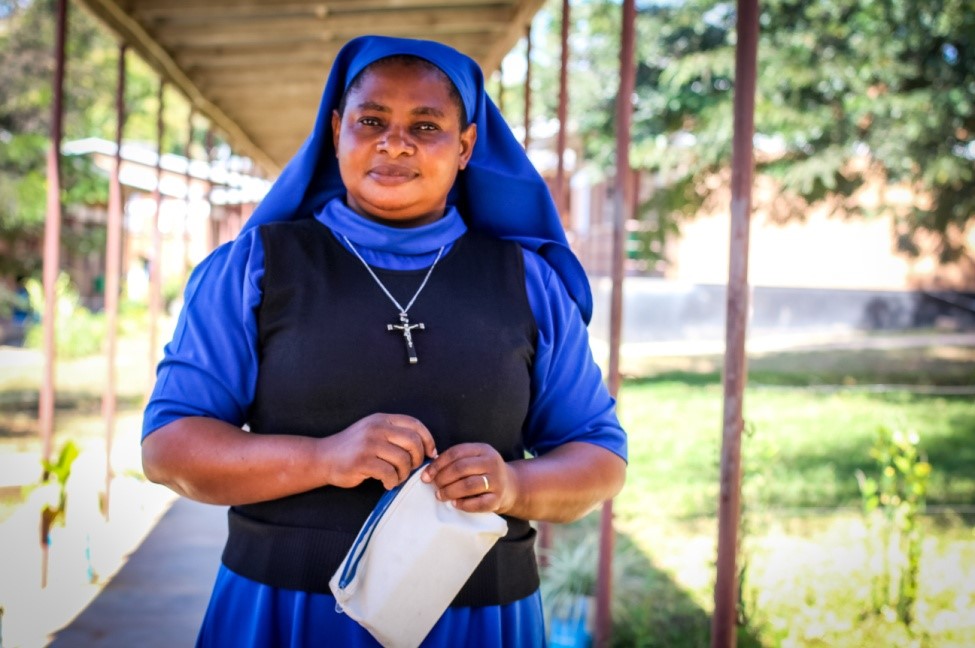 "We are very thankful to the Scottish Government for the timely installation of this system. Our facility is located very close to the border with Tanzania and there is so much mobility in this part of the country and as such we do get a lot of cases and admissions when the infection rates go high. Our patients become so delicate and it is essential that power supply is stable and we believe this will solve the power problems we had as a result of the erratic power supply we have been experiencing in the past. As the third wave is fast affecting Malawi, this is timely".
Next Steps
The EASE team are continuing to work with the hospitals to monitor the system performance and gather data on the impact of improved power resilience. CEM are also engaging with other health facilities who have requested support and possible solutions are being assessed. Keep following this blog for updates!