Last week saw the commissioning and final testing of the first microgrid to be installed under the EASE project, bringing a stable and low carbon electricity provision to the previously unconnected village of Mthembanji, Dedza District. For most customers, the microgrid will be the first experience of wired household electricity and has potential for significant social and economic impact in the village.
The 12kW microgrid provides wired connections to 60 customers for domestic and commercial use including lights, phone charging, TVs, fridges as well as other productive uses. The microgrid is the first of its kind in Malawi, offering a new method of rural electrification that allows for more electricity and higher impact than solar home systems currently offered, but cheaper, quicker to implement and potentially more financially sustainable than larger capacity minigrids currently deployed in Malawi. Additionally, microgrids of this size can be deployed in smaller communities that are of less interest to national utilities and larger mini-grid companies.
Background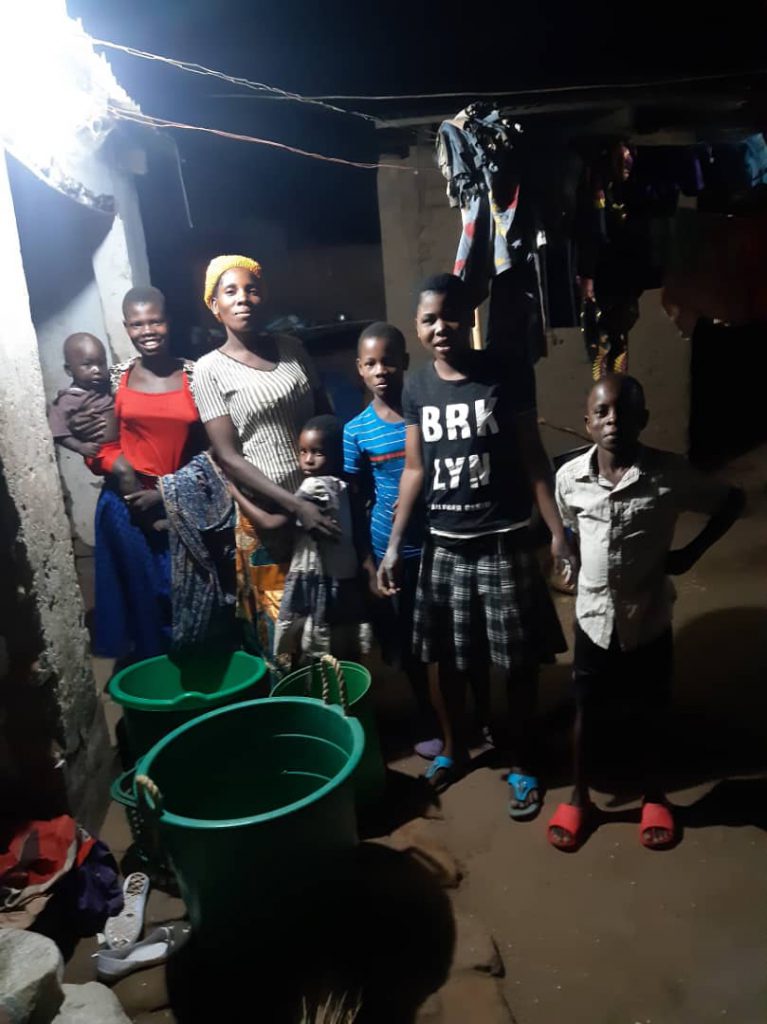 The microgrid deployment comes after several years of Scottish Government funded collaboration between University of Strathclyde and United Purpose and builds on learning from the MREAP and SOGERV projects. The project addresses the challenges of energy access in Malawi, where less than 12% of the population are connected to the national grid, limiting development and economic growth. Decentralised solar microgrids offer a low carbon and reliable source of electricity in areas unlikely to receive a grid connection in the near future. The project is a first in terms of technology and scale being offered in Malawi and offers crucial learning to the microgrid sector.
Having designed the system architecture and a sustainable business model, Strathclyde and United Purpose worked with technical partners in Malawi, South Africa and UK to complete the microgrid installation.
Generation Hub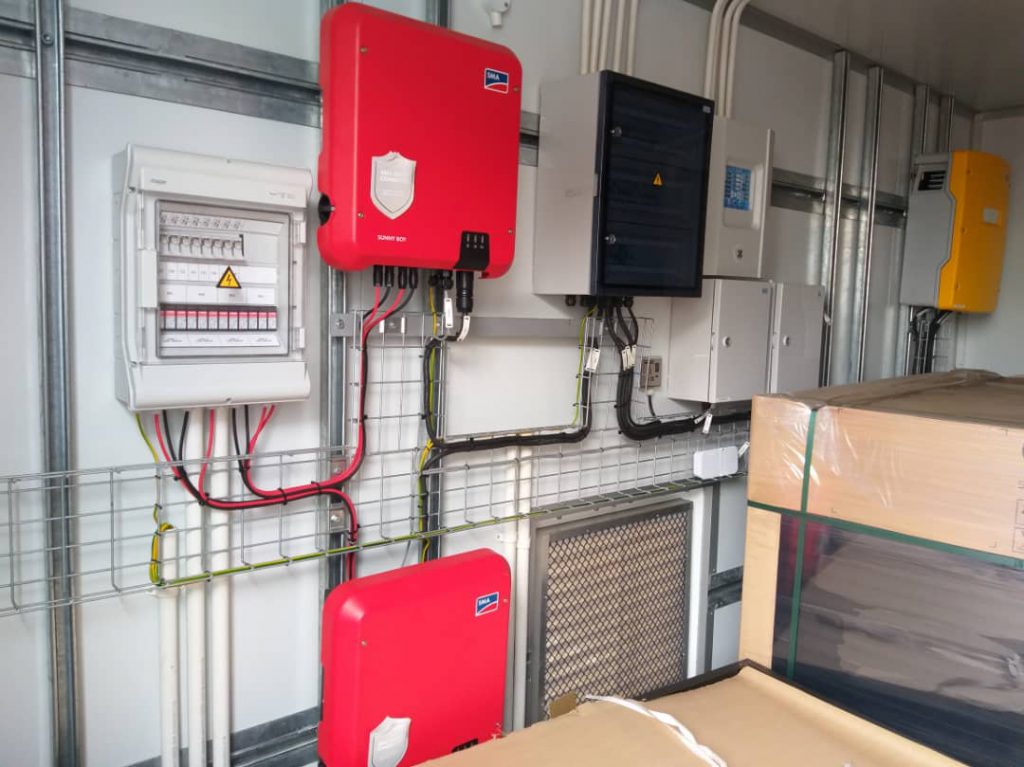 The system has a central generation system with solar PV panels, storage and electronics supplied by Sustain Power (South Africa): their shipping container houses quality inverters and lithium ion batteries from German manufacturers SMA and Tesvolt. The SMA online portal allows for remote access to system performance and generation output, as well as alerting system managers to any problems to provide swift troubleshooting on the ground.
| | |
| --- | --- |
| Battery Specifications | 48V, Lithium Ion Batteries, |
| Battery Capacity | 19.2 kWh |
| PV Module Specifications | Monocrystalline, 320W |
| PV Array Size | 11.52kW peak |
| Battery Inverter | 8 kW |
| PV Inverter | 10 kW |
Distribution Network
Electricity from the generation hub is distributed through overhead wires on 9m poles to customer premises. The distribution grid is analogous to that of a 240V single phase Low Voltage feeder from a secondary substation on the Malawi ESCOM grid. Smart meters mounted on the distribution poles automatically disconnect customers when their balance runs low, as well as setting power limits to protect the system from misuse. The distribution grid was installed by Malawian electrical contractor BNG Electrical, based in Lilongwe.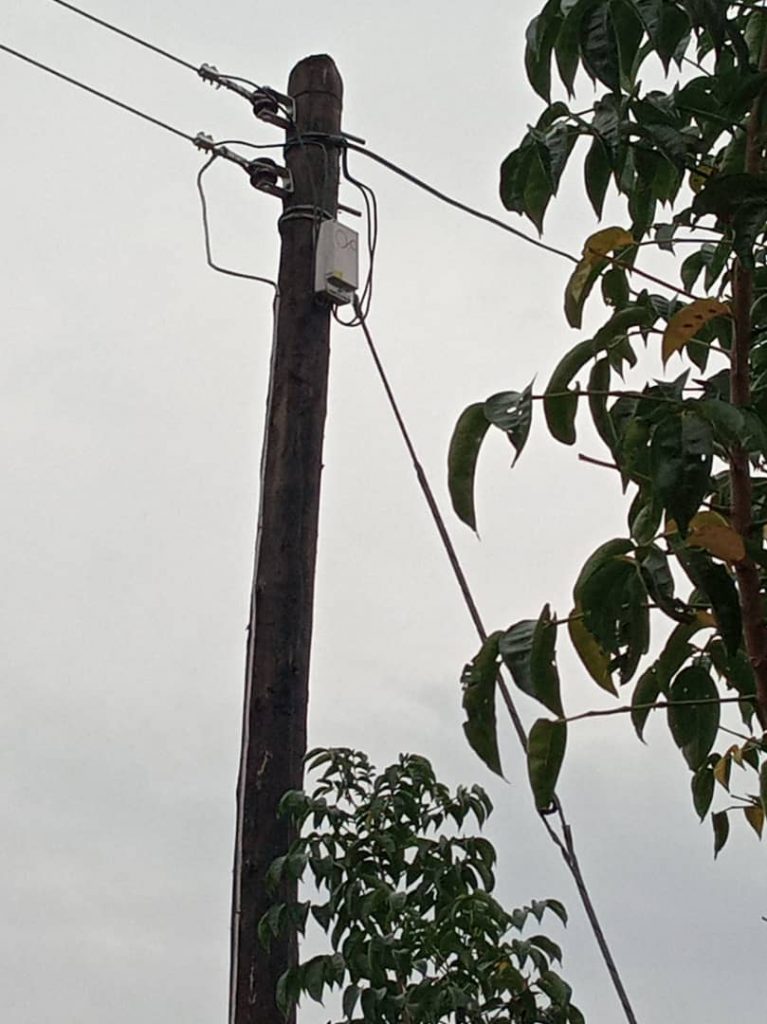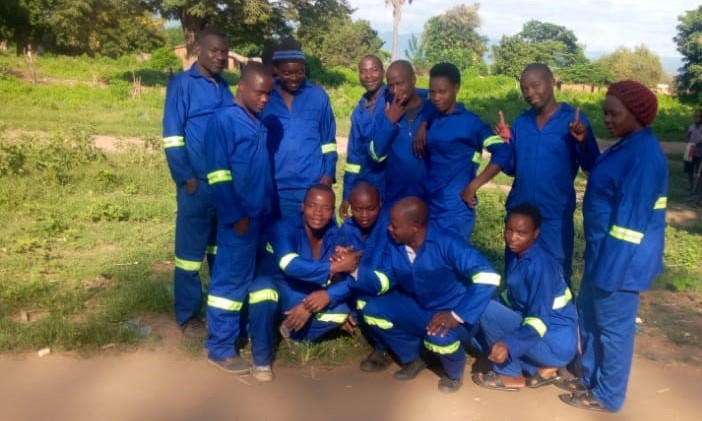 Smart Meters
Sophisticated smart meter technology enables remote monitoring and control of the microgrid, allowing for innovative balancing of load with generation, dynamic tariffs to increase affordability and project financial sustainability, as well as real time alerts of power disruptions to reduce potential down time. Additionally, data is being gathered on load profiles and demand growth to improve system performance and inform future system designs.
The smart meters provided by Steamaco (UK) allow for automated payments and real time remote monitoring of demand and tariff payments, a first for Malawi. Customers purchase energy credit from site vendors who top-up their accounts on the online Steamaco platform. Researchers at Strathclyde are able to view in real time the demand of the grid and the electricity consumption of individual customers, as well as their account balance. This data provides a wealth of information for research to help improve technical design and business models for solar microgrids.

Installation and Commissioning
Following delays due to Covid-19 restrictions, the installation team finally completed the distribution grid and customer premises wiring. PV modules were installed and wiring checks completed before the system went live, with customers switching on lights for the first time. A week of testing involved monitoring battery state of charge to assess whether the design assumption of load and system sizing were correct, and dealing with technical issues getting the smart meters online, as well as calibrating mobile networks between the UK and Malawi. All hurdles were overcome thanks to resourceful local teams from United Purpose and BNG, with coordinated remote international technical support from Strathclyde, Steamaco and Sustain Power.
The site was visited by representatives from the Malawi Energy Regulatory Authority (MERA), who were impressed with the quality of the installation and innovative technology used in the system. MERA approval has been granted for the sales of electricity which has now begun. A full MERA technical assessment is pending before a registration certificate will be granted.
Using the Power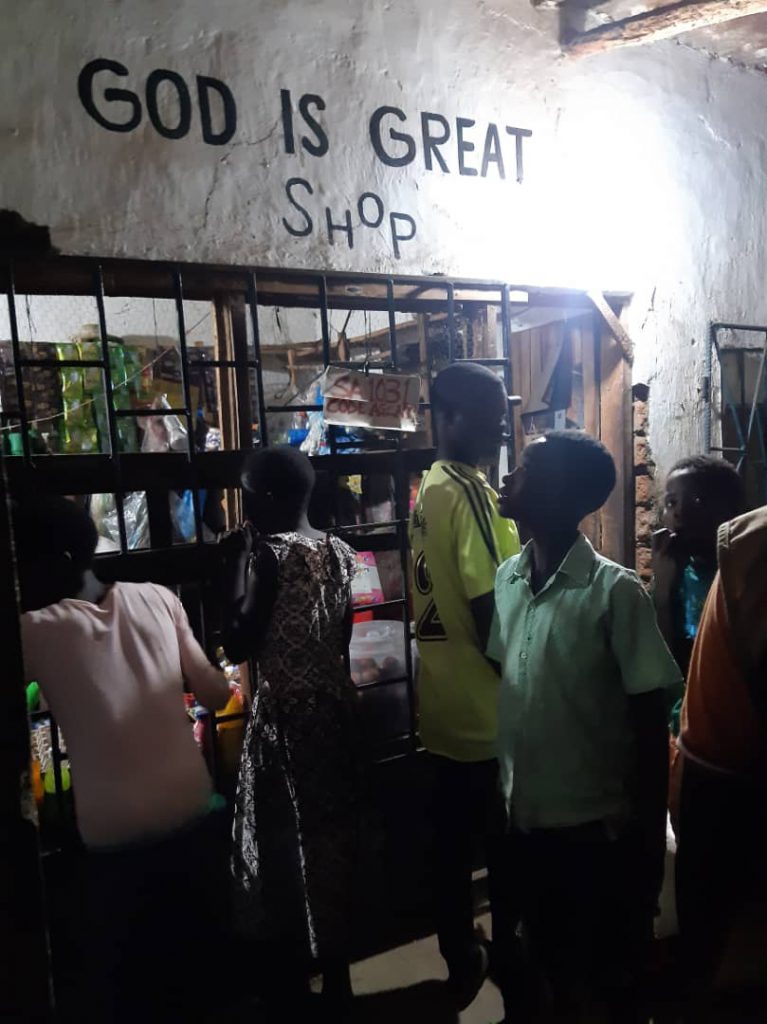 Although some customers have existing Pico Solar Products or Solar Home Systems, the microgrid will offer the first wired electricity connection for the majority of the community. Premises have been installed with LED lights and AC sockets to use appliances like fridges, phone charging and TVs. This will be the first electrical connection for many of the village and customers have been given training on safe use of electricity. Training is also being provided to encourage Productive Uses of Energy where small businesses can earn an income from using the electricity.
Tariff Overview
Electricity is sold to customers at tariffs designed to balance sufficient income from electricity sales to ensure sustainable operation and maintenance of the microgrid with affordability for energy services in the community. Customers can pay per unit of electricity or a monthly service charge, with different tariffs to suit a variety of energy needs and affordability. Customers include businesses, residential consumers as well as institutions such as the local school and church, which receive a discounted tariff.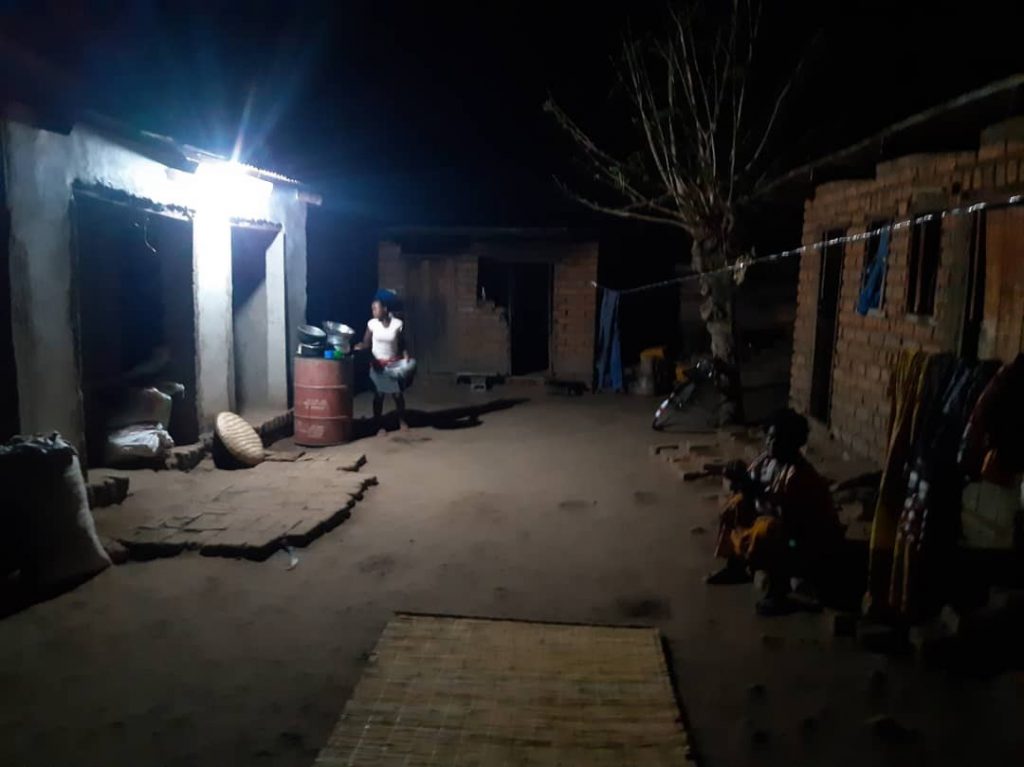 Social Enterprise Business Plan
The microgrid has a detailed business plan with financial forecasting to ensure economic sustainability over the project's 20 year lifetime. The following principals are core to the product offering and tariff design:
The electricity supply provided should meet the needs of households and small businesses expressed through detailed community engagement.
The service should be superior quality and cheaper than alternative solar energy solutions available in the area.
The microgrid must have a sustainable, long-term business model with tariffs designed to cover all social economic costs (based on detailed analysis of forecast revenues and costs)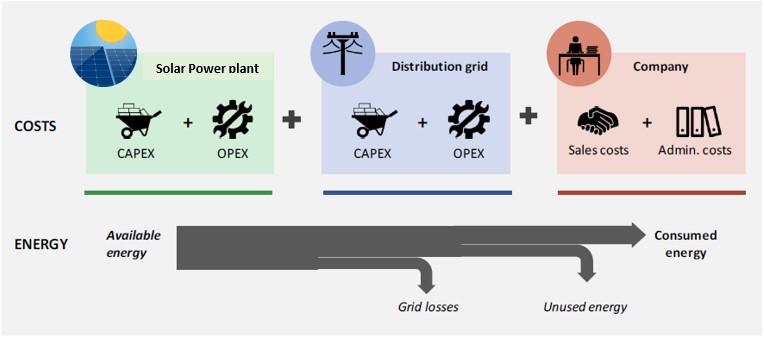 Additional to microgrid electricity sales, the social enterprise will bring in further income from sales of Pico Solar Products to lower income households through energy kiosks, as well as offering appliance finance and community capacity building. The income generated will be used for furthering the social enterprise's ambition of reducing poverty in Malawi through sustainable energy provision nationally.
The Market
Microgrids are a clear pathway on the road to Malawi's energy future. The Government of Malawi recognises the country's energy challenge of less than 10% of the population being connected to the national grid and outlines support for mini-grids to achieve their rural electrification targets in the Energy Policy (2018). The Government of Malawi has recently drafted a mini-grids regulatory framework which stipulates a licence waiver for any projects under 150kW, and a simple process for developers to register projects.
According to recent market assessment conducted by University of Strathclyde "Solar or solar/diesel hybrid microgrids are the most cost effective electrification strategy for 37% of Malawi's population, or 6.5 million people. To implement solar microgrids would cost approximately $210 per person and average operational expenses of $17 per person per year.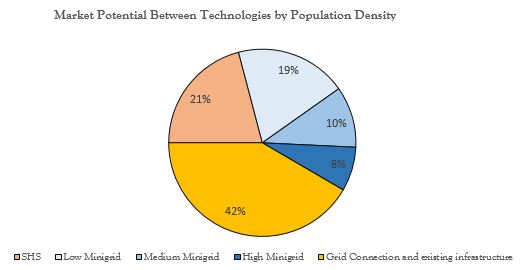 Within this context, and based on our extensive experience of energy provision in Malawi, United Purpose and the University of Strathclyde believe that there is a strong business case for a solar microgrid social enterprise. Although donor funding will be utilised for further pilot projects, a robust business plan ensures long term financial sustainability and independence from donor funding to increase impact on the communities served.
Next Steps
Strathclyde will continue to monitor the demand, system performance, and customer payments to refine the system for maximum economic and technical efficiency. Continued community engagement with regular monitoring and evaluation will give the team an insight on the social impact the microgrid is having in the community, and help to refine and improve the business plan.
Funding is secured through EASE for another microgrid in Dedza, with sites identified for implementation and plans in place to secure funding for further pilot microgrids of different sizes. Detailed monitoring and evaluation of the pilot microgrids will provide key information on energy demand and operational costs to inform the wider business model for scaling up microgrid operations nationally.
The installation marks the first step in a new social enterprise strategy to provide sustainable energy access to 1 million people over the next 10 years and contribute to Malawi's sustainable Development Goal 7 target of universal access to secure, reliable and affordable energy.
In the meantime, the community in Mthembanji continue to enjoy having electricity in their village. For most of the microgrid customers, this will be a life changing moment, being able to switch on the lights for the first time.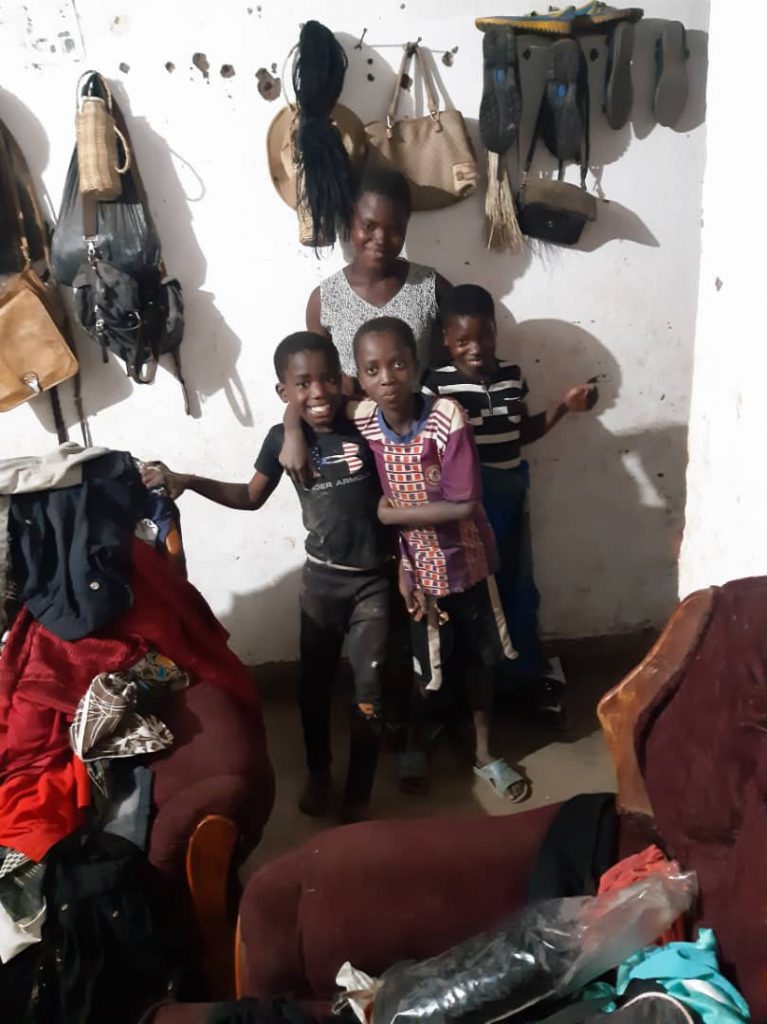 Acknowledgements
This project wouldn't have been possible without support from a variety of organisations, individuals and funders, and the EASE team are extremely grateful for the support received. We would especially like to thank:
Scottish Government's International Development team
Malawi Energy Regulatory Authority (MERA) for regulatory guidance and support
Department of Energy Affairs
Department of Environmental Affairs for supporting the Environmental and Social Management Plan
Ministry of Finance for import and VAT support
Dedza District Council
Equipment suppliers Sustain Power, Steamaco and local suppliers
BNG Electrical's skilled local team for installing the distribution grid
Irish Aid for funding a feasibility study which formed the basis of the system and business design
EPSRC for funding a virtual secondment to support United Purpose through their Impact Acceleration Account
African Minigrids for connecting key partners and technical guidance
MEGA for procurement support